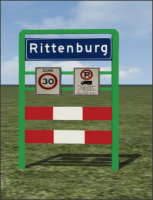 About This Club
Voortgang Objecten bouw voor TS20xx
What's new in this club

Ik ga dat nog testen in HVNL en Deltaland hoe het er uit gaat zien. Misschien maak ik daar ook nog speciale QD voor. Getest in Deltaland Het werk. Je markers geven dit resultaat.

Interessante ontwikkeling, in de meegeleverde Quick Drive's voor Deltaland zit namelijk al een 'voorbereiding' op AI-verkeer in. Alleen heb ik geen pakketje met pre-loads voorzien van de routeID gemaakt of meegeleverd (wel extern beschikbaar via hier, deze werken dan ook prima als AI verkeer), maar in principe zou het na installatie van dit pakket dus meteen met AI kunnen werken. Ik ga het zodra het beschikbaar is eens goed bekijken in ieder geval

Quick Drive (Snel start rit) voor Zuidwest Nederland Ik ben bezig met het maken Quick Drive (Snel start rit) voor Zuidwest Nederland met AI verkeer en treinsamenstellingen die random worden neergezet. Starten mogelijk vanaf diverse rangeer locaties naar diverse rangeer locaties Twee zijn er al klaar. Mijn Preload conistst = (S-QD) <loconame> De bijgeleverde QD Preloads zijn ook geschikt voor: ZW Nederland 2fd712fd-2a9b-4e30-b10c-a93b7051a081 'Hart van Nederland 47b6f7ad-85b8-667f-975a-5aeb7c18d2

1

What's New in Version 2.01 Template is hersteld. (Bugfix) Nu heb je de 4 seizoenen weer tot je beschikbaar Nederlands weer en tijden toegevoegd. (Weer pakket van Sjef61)

Weer een knap stukje werk, en een mooie toevoeging

Allen bedankt voor het compliment

Oud en nieuw. Set wordt al aardig compleet

Ben bezig met een set diverse kasten te maken . Van alles wat.

4

Gezellig zo toch die lampjes aan. Ouderwets geel licht Je zou zo naar binnen willen stappen

Hebben ze nu éindelijk de rekening betaald Sjef? Alle gekheid op een stokje: Ik vind het prachtig en het doet me op een of andere manier denken aan de jaren 70.