Description
Wat is een Asset Depot en waar dient dat voor
---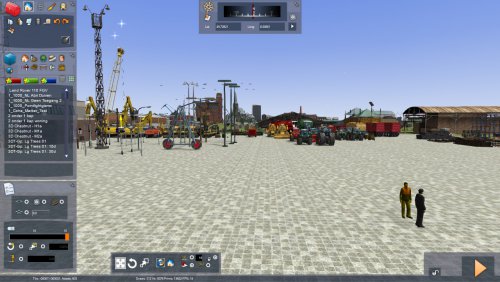 Iedere routebouwer weet het inmiddels al dat vrijwel alle Assets kriskras door elkaar heen staan in de filter list. Zo staan huizen en stations van bekende asset bouwers o.a. onder het filter miscellaneous terwijl deze onder stations zouden moeten staan. Zo staan ook perrons onder meerdere filters en vindt je ook wegen regelmatig terug op andere locaties en dan vindt je weer auto's onder clutter en zo kun je nog wel even doorgaan.
Het is door de loop der jaren letterlijk een zootje geworden. Om dit "zootje" nog behoorlijk tijdens het bouwen het hoofd te kunnen bieden maak je een asset depot.
In deze tutorial wordt uitgelegd hoe je dit opzet en wat de de voor- en nadelen zijn van de Quick List buttons, het Asset depot en Train Simulator Utilities programma.
De routebouwers onder ons kennen inmiddels het bekende probleem dat bij het plaatsen van assets je steeds door de enorme lijst moet heen scrollen om de gewenste Assets te vinden. Hoe meer assets je selecteert en in de asset filter aanvinkt des te groter de lijst wordt van lofts/assets etc, etc.
Nu heeft de Editor een Quick List die je via eenvoudige muisklikken kunt vullen met de gewenste assets. 
Dat is handig totdat je trainsimulator afsluit.
Daarnaast staat alles door elkaar heen. Zo staan bijv. Stations op andere locaties in plaats van de daarvoor bestemde locaties. namen zijn anders. en het is letterlijk een "zootje" geworden dat veel assets niet op de plaats staan waar je deze zou moeten verwachten. Dit is een veel voorkomend fenomeen, waardoor je je nog de blaren loopt te zoeken om de juiste Assets te vinden
Niets van jouw gewenste Assets blijft in die Quick List bewaard en dat is een groot gemis. Iedere keer opnieuw moet je de assets zoeken die je wilt gebruiken in jouw route. 
Om het probleem op te lossen en de assets gelijk bij elkaar te hebben maak je net buiten het zicht een Asset depot. Hierdoor versnel je je bouwproject aanzienlijk.

Dit asset depot geef je een tegelvloer omdat een tegelvloer vierkante tegels heeft van ongeveer 30x30 cm
Dit is belangrijk om globaal een inschatting te kunnen krijgen van de dimensies van een asset.

Je kunt ook Stelconplaten texture als ondergrond toepassen. een stelconplaat is ongeveer 2.5x2.5 meter. Hierboven een stelconplaat texture naast de tegeltexture.
In het midden ongeveer plaats je twee of meerdere personen. Een gemiddeld personage is ongeveer 175 cm hoog waardoor dimensies van Assets ook in 3D goed worden weergegeven.


Om een nog beter inzicht in de dimensies van het Asset depot te krijgen kun je ook meetlatten neerleggen van CoHa of de Loft meetlat van WG

In deze afbeelding zijn twee dezelfde meetlatten zichtbaar en die net op de rand van de "afgrond" begint en de ander ligt in de verte naast het waterbassin asset rechts van de meetlat die naast de personage met de hoed begint. Hierdoor worden de dimensies goed zichtbaar.
Markers plaatsen met namen van asset bouwers.
Leg een stukje spoor en plaats daarin een marker met de naam van de bouwer.
Naast of boven dat spoor plaats je alle assets die je wil hebben van die asset bouwer.
Dit doe je ook met de andere asset bouwers. voor iedere asset bouwer een stukje spoor waar je de assets naast of boven zet.

Ik heb hier een dubbelkruis neergelegd, maar je kunt ook een winkelhaak neerleggen met sporen waartussen je je gewenste assets plaatst.
Zo hou je je assets bij elkaar en bij het openen van de Map zie je dat stukje spoor in beeld met de naam van de asset bouwer.
Op het moment dat je daarop klik met Control erbij dan positioneert de kaart in het midden van de aangeklikte positie op de map.
Als je nu op het pijltje van de navigator boven in beeld klikt dan ga je direct naar die plaats toe en sta je gelijk naast jouw assets.
Als je je gewenste asset heb teruggevonden in jouw asset depot dan kopieer en plak je deze in de directe omgeving.
Nu selecteer je je gekopieerde asset en sleep deze naar jouw locatie waar je je asset wil hebben en klaar is kees.
Met een Asset depot hou je je overzicht over jouw gewenste asset als je op een locatie langer gaat bouwen en je niet steeds door de hele lijst heen wil scrollen.
Nadeel is echter dat je lang moet slepen als je op een andere locatie gaat bouwen waar je lang aan gaat werken. 
In dat geval zet je ook daar een Asset depot op  met de door jouw geselecteerde assets in de directe omgeving van jouw "bouw"locatie.
Wanneer de route klaar is vergeet dan niet alle assets, assetdepots, sporen en de spoormarkers te verwijderen uit deze asset depot want deze worden dan genoemd in de asset lijst TS-Tools terwijl er dan ook veel assets zijn die dan niet in de route worden gebruikt.  
Succes met bouwen.

R.C. de Visser
Steamtrains Unlimited
Tutorial Videos
Optionally you can add videos from Youtube or Vimeo to your tutorial