Munich - Augsburg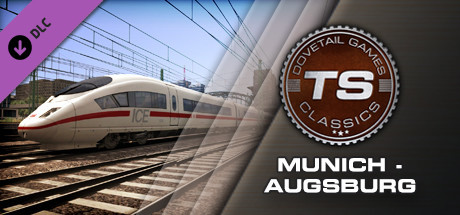 About:
Munich-Augsburg is a route build by Dovetail Games, is a 61-kilometer/38-mile high-speed route from Munich to Augsburg, featuring the huge Munich Main Station complete with underground S-Bahn station.
The 61-kilometer (38-mile) line between the two Bavarian cities of Munich and Augsburg was completed in 1840, and was soon nationalised as part of the Royal Bavarian State Railway. High speed upgrades began more than a century later, with the first 200km/h (124mph) section of the route opening in 1977. The fully-electrified Munich-Augsburg line is now one of Germany's busiest lines, with around 300 trains per day using the route including trans-European services. The main line has four tracks, enabling ICE trains to run at high speed without interruption, with separate tracks for the S-Bahn services at the Munich end of the line.
Route:
Steam: Munich-Augsburg Route Add-On
No files in this category yet.